ENG 004 Lecture 3, Oct 4, 2012
Announcements
Studios start today!
Bring Sketchbooks to studio!
Lecture HW #1 due Tuesday
Wait listed students please be a patient
Read Chapter #2
Topics
Visual Culture/Thinking: Seeing, Imagining, Drawing/Sketching, Diagramming, Environment, Culture
Graphics in Design: Visualization, Communication, Documentation
Sketches vs Drawings
Conventions
Visual Thinking
Environment
Physical Workspace to encourage visual ability:
Lighting
Surface to work on
Sound/music/silence
Art/models/mobiles/etc
Looking for inspiration
Culture
Understanding visualization culture and the tools to do so
The way we relate to others:
Brainstorming
Sketching
Idea logs, Sketchbooks
Physical Design, Prototypes
Critiquing
Seeing
Visual exercises to stretch your visual ability.
Tune-up your seeing skills
Be aware of how you see
Unblock you visual stereotypes
Translate motion into form
Notice detail
Sort, categorize, and group elements
View from other's perspectives
Drawing/Sketching
Does not require and artistic ability. It is a skill.
Enlivens the imagination
Used to enhance seeing
Use basic techniques: shading, perspective, etc
Learn how to create basic objects and shapes
Diagramming
Make the abstract concrete
Pictorial conversation to describe and illustrate ideas
Use symbols
Flow charts, free body diagrams, Sankey diagrams, Venn diagrams, etc
Imagining
Enhance inner visualization
Using mental imagery to generate ideas
Recognize your own imaginative abilities
Use words, sounds, images to articulate ideas
Role of Graphics in Design
Role of Graphics in Design
Visualization
Communication
Documentation
Visualization
The ability to see objects in your mind
Mentally seeing things that don't exist or that need modification
Sketches are the first physical capture of your mental image
Mentally fly through of objects
Ability to see relative motion
Communication
Refine drawings and models to improve communication of ideas
Assist others to visualize what you see
Clear way to relay information to others
Documentation
Create a permanent record of a design
Detailed 2D/3D drawings
Contains all information needed to create/use objects
Provides communication for manufacturing, service, sales, etc
Sketching Vs Drawing
Sketching Vs Drawing
Sketching
Transferring of ideas or concepts onto paper or in a computer to quickly capture them graphically.
Drawing
Transferring of an object's shape, size, proportion and/or main features onto paper or computer.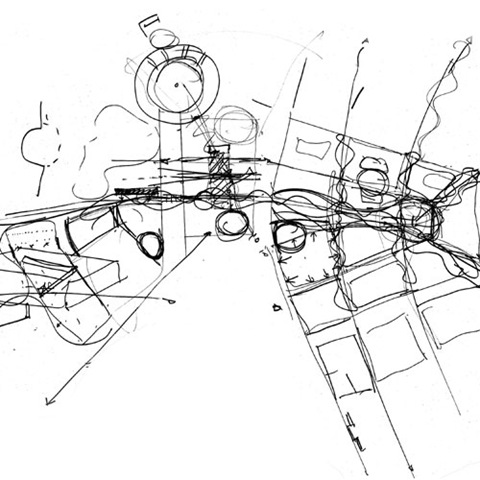 http://ikastika.files.wordpress.com/2008/10/elephant-sketch500.jpg
Contour Sketch
Emphasize mass and volume rather than detail.
http://en.wikipedia.org/wiki/File:Schiele_-_Mutter_mit_Kind_-_1910.jpg
Technical Drawing
Emphasize technical details
http://www.odec.ca/projects/2007/viva7s2/DaVinci_CVP_illustration.jpg
http://en.wikipedia.org/wiki/File:Design_for_a_Flying_Machine.jpg
Design Standards and Conventions
ANSI (American National Standards Institute)
Governing body in the United States that generates and publishes standards and conventions for science, technology, and engineering.
NGO (non-governmental organization) comprised of professionals from various technical fields.
ISO (International Standards Organization)
The ISO is a standards body for the global level

Line Types
See Chapter 5 page 232
Construction lines: light, erasable guide lines used to start sketches
Center Line: indicates symmetry, paths of motion, centers of circles or circular arcs.
Break Line: shows where an object is broken to reveal the interior or to save drawing space. Two forms: freehand thick line and long ruled think line with zig zags.
Dimension, extension, and leader lines: used to indicate the size of location of a feature
Section lines: represents surfaces cut by the cutting plane
Cutting Plane lines: show the locations of the cutting plane
Visible lines (object lines): shows features visible in the current projection
Hidden lines: represents features that cannot be seen in the current projection
Phantom lines: are used to represent a movable feature in its different positions.
Stitch lines: are used to indicate a sewing or stitching process.
Chain lines: are used to indicate that a surface is to receive additional treatment.
Symmetry lines are used as an axis of symmetry for a particular view
Proportions and Construction Lines
←
→
/
#